B
ishop Mary Coming to St James Bedford


________________________________
Bishop Mary Gibson by McGill Alumni

A church leader for the 21st century
by Vivian Lewin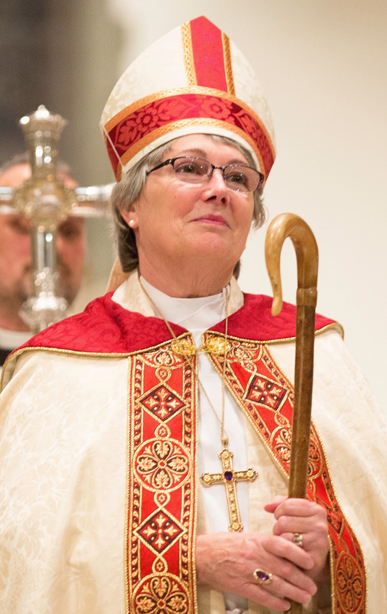 Mary Irwin-Gibson recently became the new bishop for the Anglican
Diocese of Montreal and the first woman to serve in that role in the
165 year history of the diocese. (Photo: Janet Best)
"Exciting ride home tonight?" Bishop Mary's question to one of her younger priests pops up on my Facebook feed. After a meeting in Montreal, he had set out for his parish in Lachute in the midst of a snowfall. As a former regional archdeacon in the Laurentians, Mary Irwin-Gibson, BTh'79, knows those roads well. She also loves connecting what she knows with people she cares about.
On September 29, when she was installed as Bishop of Montreal, that circle of care expanded to include the whole Anglican Diocese of Montreal—one of two dioceses in southern Quebec, and one of 29 in Canada. Her job as bishop—head of the diocese—calls her to guide and inspire a population of Anglicans which, upon her election, the media were quick to characterize as aging and shrinking. She takes a wider view.
Fluently bilingual, Irwin-Gibson came to Montreal from Sarnia when she was three and attended her first years of primary school in French in Pointe-aux-Trembles. "I enjoyed playing guitar in my church prayer group and I loved leading others in praise," she says, "but I thought I would become a social worker. God had a different plan for me." She studied theology at McGill and was ordained to the priesthood in 1982. She served as curate for two years in Hudson, then as parish priest and as regional archdeacon on the South Shore and in the Laurentians before earning her Executive MBA from the Université du Québec à Montréal in 2005. All of this developed her perspective on the church as an organization.
"Churches ebb and flow. There's a life span in an organization. Every organization needs to recreate itself. You get to the point where things are going well, and then immediately they shift. That's a decision point in the life of the church. If you use a business model, you make preparations for those shifts. Continuity doesn't mean you never change.
"Every parish I've known has needed to make decisions. Parishes are organizations. To go from good to great, you need to capture the idea of your mission and vision: What animates you? What is your passion? There are always economic drivers, yes, but unless you know where you're heading, you won't get there.
"In my MBA studies, I learned to put the vision first. If you know where you want to go, then you can build a strategy and put resources in line."
Do churches usually do that? "Most churches want to have somebody there to look after their needs. First-level care stuff. A lot of churches are stuck in that 'meet the needs' thing. They don't ask, 'What is God calling us to do?'
"If you want to hear God's call, first, you need to be alert. And next, make sure you're not the only one with the idea."

Interview with Bishop Mary Gibson by CBC
Link
Fall Schedule




Sunday,13th October TRINITY XVII , HARVEST THANKSGIVING
Bedford Bishop Mary presider and preacher
Sunday, 20th October TRINITY XVIII (propers 29 C)
Frelighsburg The Ven. Peter Hannen
Philipsburg (manoir) Morning Prayer Rev. Tyson Rosberg
Sunday, 27th October TRINITY XIX (propers 30C)
Stanbridge East Fr Marc-Philippe
Bedford The Ven. Peter Hannen
NOVEMBER Sunday, 3rd November
Festival of All Saints Frelighishburg The Ven. Peter Hannen
Philipsburg (manoir) Sandy Montgopmery (morning prayer)
Sunday, 10th November TRINITY XXI (propers 32 C)
Stanbridge East The Ven. Peter Hannen
Bedford Fr Marc-Philippe Tyson Rosberg, preacher
Sunday, 17th November TRINITY XXII (propers 33C)
Frelighsburg Fr Marc-Philippe
Philipsburg (manoir) The Ven. Peter Hannen
Sunday, 24th November THE REIGN OF CHRIST
Stanbridge East The Ven. Peter Hannen Tyson Rosberg, preacher
Bedford Fr Marc-Philippe
ADVENT Sunday, 1st December ADVENT 1 (cycle A)
Frelighsburg (service of lessons and carols) Fr Marc-Philippe Philipsburg (manoir) The Ven. Peter Hannen Sunday,
8th December ADVENT II (Cycle A)
Stanbridge East Fr Marc-Philippe Tyson Rosberg, preacher
Bedford The Ven. Peter Hannen
Sunday, 15th December ADVENT III (cycle A)
STANBRIDGE EAST The Ven. Peter Hannen
Philipsburg (manoir) Fr Marc-Philippe Sunday,
22nd December ADVENT IV (Cycle A)
Stanbridge East The Ven. Peter Hannen
Bedford Fr Marc-Philippe
Deacon Rosberg when available , will read the gospel, do the intercessions, serve at the altar, give communion with the priest and , when indicated, preach. The service on 15th December has to be moved from Frelighsburg to Stanbridge East because of the Marché de Noël which takes place in the church.
Veterabns oof Missisquoi Who Did not come back home alive . Most are buried overseas.
Ades	F E		WW1
Beaucage	Hubby	WW2
Bockus	Henry		WW1
Bouchard	C	WW1
Callaghan	Edson 	WW1
Casavant	Antonio	WW1
Corey	Douglas		WW2
Coulombe,Wilfred	WW2
Crisley	E		WW1
Deuel	Russell		WW1
Dyer	Royce		WW1
Fletcher	John 	WW1
French  St George	WW1
Harrison	Melvin 	WW2
Henault	H		WW1 
Holden	Walter Ingalls	WW1
Jones	Walter		WW2
Killick	Ronald 		WW2
Lamarche	Arthur	WW2
Langley	Flight Lt	WW1
Lariviere	Rosario	WW1
Manson	John Cormack	WW1
McCaw	Cameron		WW2
McCrum	Frederick A.	WW1
McElroy	Aurthur S	WW2
Miller	M N		WW1
Naylor	Herbert V	WW1
Pettes	J C		WW1
Pibus	Harry		WW2
Pickle	Eric		WW2
Procter	Darwin		WW2
Quinn	Flt Lt Francis	WW2
Ramsay	Lt James	WW1
Ramsay	Lt Lisle#	WW1
Ramsey	C John P	WW2
Rheame	Antonio		WW1
Roberts	V J		WW1
	Sebe		Afganistan
Seale	Harold		WW2
Shepherd	Walter	WW2
Simard	Conrad 		WW2
Smith	F W		WW1
Smith	Ewing Flt Lt	WW1
Sornberger	Hollis 	WW1
Stapenhill	George	WW1
Starr	Marjorie	WW1
Stone	A W		WW1
Tetreault	A	WW1
Ward	L C		WW1
Wells	Albert Edward	WW1
Woodley	David		WW2
----------------------------------------------------------------------------
Rummage Sale At Bedford St James Bedford Begins



Wed Oct 30 1-6 pm $10 Bag

$10 Bag Oct 31 1-6 pm $10 Bag

Friday Nov 1 1-6 pm $10 Bag



Saturday Nov 2

9 am-11:30 am $5



Arrive Early -Get First Choice! Do not let the crowd beat you.






Hadlocks Honoured at Pigeon Hill Agnlican Service On

September 30.

Alice and Welden Hadlock received a plaque or Bishops Award from Bishop Mary Gibson at a Pigeon Hill Regional Service on Sunday Sept 302019


Bible Study to Start Soon

We are in the process of arranging bible study. It will begin shortly. Final Arrangements wll be completed shortly. Last year we held them Friday Morning we hope to restart shortly. Leave your name with dawn at 450-248-3923




Father Andy to be inducted soon at St. Stephen, Chambly.


Bedford Cenotaph Moved to new Site Legion Prepares for Rememberance Day


Wardens discussing with United Church ways to increase Outreach with Elderly in CHSLD and local seniors homes!